Houseboat For Two is run by a husband and wife team (Jack & Sue), with the Houseboat's home mooring on the riverbank at our home. There is just the one 'Houseboat For Two' available to ensure a more personalised service.  (See more details of what is included further below)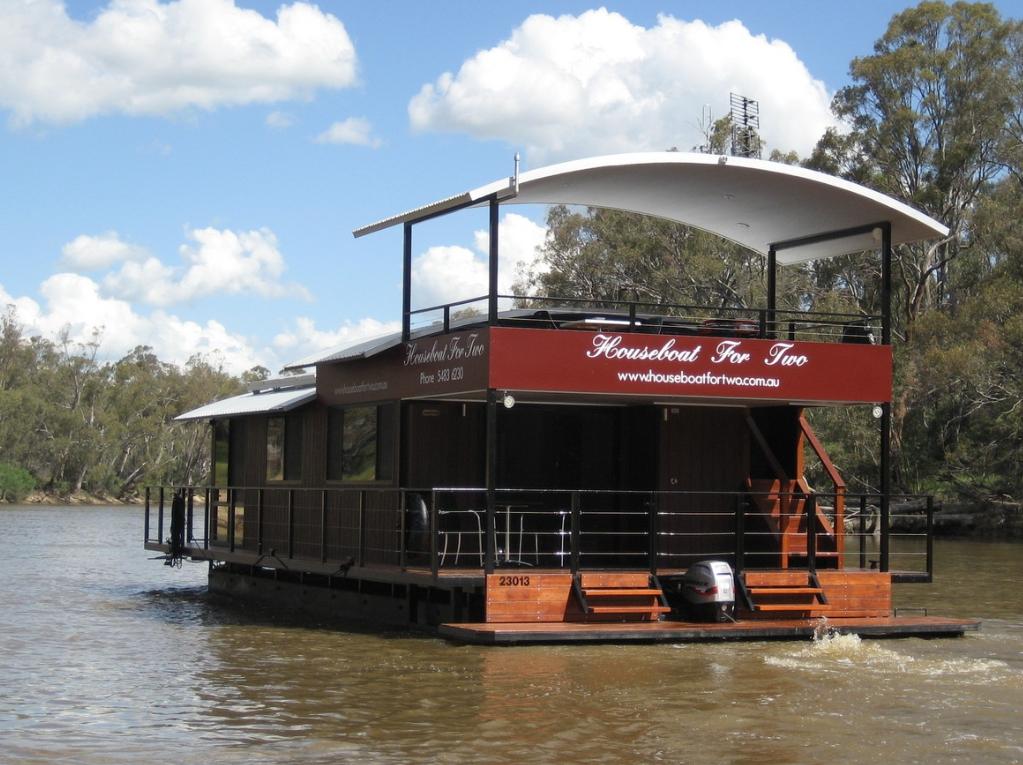 Take a stroll through the houseboat…
Annie & Brett had a amazing holiday on the Murray…
WHAT IS INCLUDED AND WHERE LOCATED
Houseboat For Two is rated '5 star' and has:
– loads of space and luxury
– environmentally friendly (recycled materials, solar powered, energy efficient)
– unique design and shape, no other boat like it, exterior colours of the river environment
– no crowded moorings, this is theonly boat at the property, so your own exclusive mooring
– large deck areas on two levels
– free parking
– all linen, including kitchen tea towells, bedding, bathroom linen and swim towels
Pillows, spare blankets and spare sheeting
– Kitchen cutlery & crockery & cooking pots/pans/utensils
– Breakfast pack for the first day of hire
– Laundry supplies – dishwashing liquid, diswashing powder, washing powder
– Bathroom supplies – toilet paper, toiletries (shampoo, conditioner, soap etc), sunscreen
– BBQ (oil provided also)
– Fishing rods and some tackle gear

Appliances included on Houseboat For Two:
– Large flat screen TV in living area and small flat screen TV in bedroom
– DVD player (surround sound entertainment system throughout boat and upstairs deck)
– Air conditioning
– gas cooktop
– gas oven
– gas fridge and freezer
– dishwasher
– microwave
– gas dryer
– frontload washing machine
– Solar energy system
LOCATION
Houseboat For Two is just 10 minutes drive west of Moama (on the NSW side of the river).
'Houseboat For Two' is moored at 'Paradise Gardens', 1199 Perricoota Road, Moama
(Echuca and Moama are like sister towns, one either side of the river, just like Albury and Wodonga.)
See maps below to see how to get here………….